Jacob Allen in Philanthropreneurship on Impact Measurement
Jacob Allen in Philanthropreneurship on Impact Measurement
Jacob Allen, Managing Director of Cicero Social Impact, recently published an essay in Philanthropreneurship titled "The Science of Social Impact: Measuring to Prove and Improve Your Theory." The publication, one of the biggest international venues for thought leadership in the realm of philanthropy, regularly features the biggest thinkers in social change and entrepreneurship.
Jacob's essay begins by outlining one of the biggest challenging facing social change-makers: accurately measuring impact.
It's no secret that solving society's myriad challenges is hard. Really hard. On one hand, millions have left poverty in the last few decades and the world has seen significant progress toward the Millennium Development Goals. On the other hand, the history of the social sector is littered with examples of failed projects and billions of wasted dollars in everything from foreign aid to developing countries to school reform in the United States. Even so-called silver bullets like microfinance and charter schools eventually result in mixed results and unmet expectations, with new innovations following old, ineffective patterns.

Upon close examination, many of these efforts fall prey to similar pitfalls. In our experience with hundreds of organizations working in dozens of sectors around the globe, too many funders, investors, and practitioners take it as an article of faith that their efforts for good will work. But good intentions are not enough; passionate efforts don't always equal impact. The problem is that this pivotal fact usually goes unnoticed.
The rest of the article lays out a framework and formula for concretely measuring the effects of social efforts. Click here to read the whole article.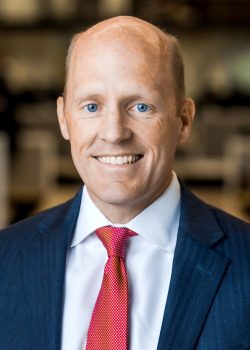 Jacob Allen
Partner – Managing Director of Social Impact Practice

---
Jacob has worked with mission-driven organizations for over fifteen years and in a dozen countries around the world. He has led the strategic design, implementation, and measurement of social impact programs run by Presidents Bush and Clinton, Goldman Sachs, the Alzheimer's Association, the Nature Conservancy, and many others. He serves on the board of directors for Mary's Meals, which feeds a daily meal in school to one million children living in desperate poverty.
Cicero Group Welcomes Newest Partner
Cicero Group Welcomes Newest Partner
By

Cicero Group
FOR IMMEDIATE RELEASE
CONTACT:
Chase Christiansen
cchristiansen@cicerogroup.com
801-456-6700
CICERO GROUP WELCOMES NEWEST PARTNER
Most recent hire adds to the quickly expanding Cicero Group leadership team; deepens sales and marketing expertise
May 13, 2019 (SALT LAKE CITY) – Cicero Group, a premier management consulting firm focused on implementing data-driven strategies, is pleased to announce the addition Scott Neuner as the firm's newest partner. Mr. Neuner was most recently head of Vivint Smart Home's digital marketing business; leading a team of marketers, operations specialists, and creatives to dramatically increase lead performance and driving record sales volumes.
"Scott brings a wealth of sales, marketing and operational knowledge to one of the fastest growing consulting firms in the U.S.," said Dr. Trent Kaufman, CEO of Cicero Group. "During his previous tenure at Cicero Group, Scott led some of our most successful projects, and we couldn't be happier to have him back on-board."
Prior to his current role at Cicero Group, Mr. Neuner held senior operating and consultative roles for a wide range of organizations, from Fortune 100 companies to mid-sized corporations and non-profits. His specialties include helping complex organizations across a range of industries in marketing and sales, digital marketing, customer insights and analytics, process optimization, and organizational transformation. Earlier in his career, Mr. Neuner led workstreams for a variety of projects in marketing roles at Cisco Systems, Adobe Systems and Deloitte Consulting's Strategy & Operations practice area.
Mr. Neuner has a Dual Master's Degree from Northwestern University (M.B.A.—Kellogg School of Management, Master of Engineering Management—McCormick School of Engineering).
ABOUT CICERO GROUP:
Cicero Group is a premier management consulting firm focused on implementing data-driven strategies for a broad mix of private, public, and social sector organizations across the globe. Cicero Group is headquartered in Salt Lake City, Utah, with additional offices in Dallas, Texas, and Washington D.C. Cicero Group uses data and experience to generate insights, create actionable strategies, and drive transformation with an overarching purpose of helping people create and continuously deliver extraordinary results.
###
Dan Case
Principal
---
Dan Case is a Principal with Cicero Group and co-leads the firm's Customer Insight and Analytics practice. Dan has specific expertise in using analytic approaches to empower tangible, data-driven strategies for clients. With over eight years of management consulting and research experience, Dan has been a trusted advisor to senior executives across a range of companies and industries.